The court will determine the proper way to submit or share documents with attendees in a virtual court appearance.  Here are steps to follow, if attaching documents to a meeting has been approved by the court.
 
Attach Documents to a Meeting
You can upload attachments to a meeting when scheduling the meeting.
On the Insert tab, in the Include section, click Attach File or Outlook Item.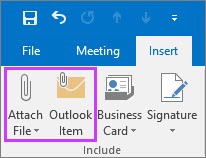 Browse for and select the attachments you want to add.


You can add meeting attachments any time prior to the meeting
Open the meeting invitation.
Attach the document as above.
Send the updated meeting.

Note:  Documents in your OneDrive folder won't be loaded from the cloud location until the meeting starts.
 
Accessing Meeting Attachments
The attachments included in a Skype for Business meeting invitation show up in the meeting window automatically when the first participant joins the meeting.
 
In the meeting window, people can see there are meeting attachments by the notification in the yellow band and also by the orange dot next to the Present button.

To retrieve the meeting attachments, click the Present button, and then select Manage Content.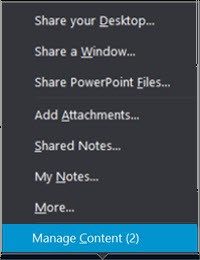 To view the meeting files, click the Open the file button.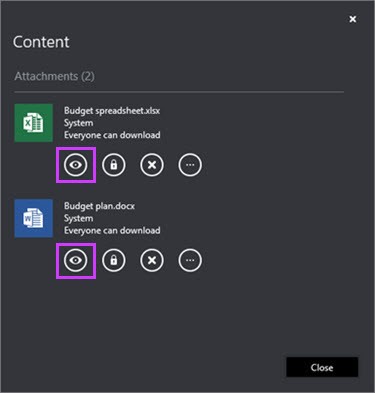 Other options for attachments are:
Click this

To do this

Circle #1

(Eye Image)

Download the meeting attachment.

Circle #2

(Lock Image)

Change who can download the meeting attachment (everyone, presenters, organizer). By default, only the organizer and presenters have automatic access to the content. If you have participants outside of your organization, you'll want to make sure to change this to everyone.

Circle #3

("X" Image)

Remove the meeting attachment from the meeting.

Circlie #4

("..." Image)

More options, such as save as and rename the meeting attachment.




Note:

 You cannot save as or rename cloud attachments.




Renaming a file is temporary and doesn't change the calendar attachment file name. Also, if the meeting is restarted after a rename, the rename will be lost and the original name will be restored.